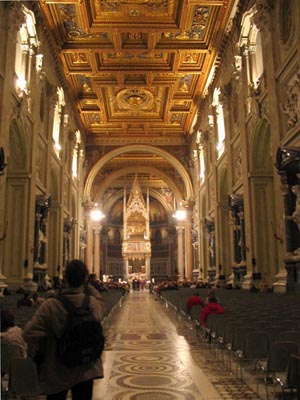 THE DEDICATION OF THE LATERAN BASILICA
O God, who from living and chosen stones prepare an eternal dwelling for your majesty, increase in your Church the grace you have bestowed, so that by new growth your faithful people may build up the heavenly Jerusalem. Through our Lord.
SUNDAY VESPERS
MARKING THE CLOSE OF
FORTY DAYS FOR LIFE, OTTAWA
On Sunday, it was a joyous throng that came together for a bilingual Vespers at St. Patrick's Basilica, then in silence, holding tapers, walked in procession to the Bank Street abortion centre in thanksgiving for the graces [even lives saved] through the prayer and witness of the those who took part in the Ottawa campaign. Some photos (courtesy of Paul Lauzon):
* * * * * *
Thirty-third Sunday in Ordinary Time (Year "A")—November 13, 2011
"STEWARDSHIP: A DISCIPLE'S RESPONSE"
[Texts: Proverbs 31 [Psalm 128]; 1 Thessalonians 5:1-6; Matthew 24:36; 25:14-30]
For forty years the International Catholic Stewardship Council (ICSC) has fostered the belief among Catholics that everything a person has or is comes to them as a God's gift God to be managed in trust.

An ICSC convention drew 1700 delegates to Toronto to explore what it means to be a steward today.

There, with more than 200 Canadian Catholics, I had the opportunity to explore the spirituality of stewardship—how to share time, talent and treasure—in church life.
A key for reflecting on stewardship in recent years is a statement published twenty years ago by the United States Conference of Catholic Bishops entitled Stewardship: A Disciple's Response (cf. Origins 22:27 [December 17, 1992], pp. 457, 459-472). Recently, the Archdiocese of Ottawa had it translated into French and it is hoped it will have a wide impact in the French dioceses and parishes of Canada.
Several years before the document's composition, a committee had been named to consider future needs of the Roman Catholic Church in the USA in light of projected diminishing resources of personnel and finances.

Many anticipated the committee would produce a modern strategy for recruiting vocations to priesthood and consecrated life with marketing proposals that would raise large sums of money. Instead, the bishops' committee produced a vision of what it means to be Jesus' disciple in contemporary North America.
After studying this meditation on how to follow Our Lord today, I am convinced that Stewardship: A Disciple's Response is prophetic, even an inspired document.

It offers a biblically-rooted concept of discipleship with the potential to bear spiritual fruit in the long-term because it is based on the foundation of the individual's conversion of personal outlook.
Counter-cultural in its perspective, the bishops' summons reflects the approach of Jesus himself, who asked his followers to begin a process of making ongoing personal decisions that eventually would touch every aspect of life.
According to Stewardship: A Disciple's Response, from biblical times, "an oikonomos or steward is one to whom the owner of a household turns over the responsibility for caring for the property, managing affairs, making resources yield as much as possible and sharing resources with others.

The position involves trust and accountability" (#20).
In contemporary interpretation of the steward's role, disciples are called to live with gratitude for all God's gifts: for one's creation and redemption; for one's talents and capacity for work and artistic creation; for one's family, possessions and relationships.

All these are to be cultivated responsibly, shared lovingly and justly, and returned to God—who remains the true owner of them all—with increase.
In the Book of Proverbs, the ideal wife was held to be a rarity and therefore was "far more precious than jewels".

Within the varying legal standing of women in ancient history, it seems there were always wives capable of taking initiatives in matters relating to the family fortune.

In this they acted, as in this poem, with the full support of their husbands.

The competent wife's endeavours fostered growth in the family's fortunes and so, as was recommended elsewhere in Proverbs, she came under the same obligation as men to be generous to the needy.
Quite appropriately, the poem ends with praise: first of the family to which she has contributed so much, then to her personal renown in particular ("let her works praise her in the city gates").

This anticipates the theme of praise given by the master to trustworthy servants in the gospel parable.

Thus, industrious and trustworthy men and women receive commendation from the Word of God, the Lord of creation.

And praise comes, too, from Jesus himself, the embodiment of God's Wisdom, who teaches disciples the way to salvation.
As an entrusted sum of money, the "talent" symbolized potential or one's capacity to achieve.

Likely that is why Jesus chose it.

A parable generally invites the hearer to imagine himself or herself in the role of one of the actors, and challenged to reach the kind of decision the dramatis personae are called on to make.
The slave with one talent, given according to his capacity, was condemned for fearful inactivity.

All who hear the parable are challenged by his lot—and by the successful outcome achieved by those entrusted with two and five talents—to a dynamic and productive existence.
Being "good and faithful" does not mean passivity as one waits for the Parousia of Christ, but implies a sense of creative responsibility, taking initiatives, actions and risks.
* * * * * *
THE BIBLE IS
THE SOURCE
OF MANY SAYINGS...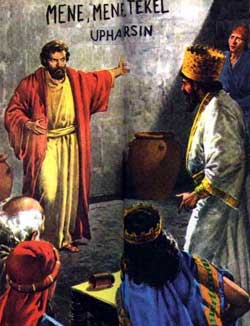 ...one of which comes up in the passage from Daniel that would have been read in today's Office of Readings, but is missed because of the Feast of St. John Lateran.
The Chaldean King Belshazzar's sumptuous banquet is interrupted by the mysterious fingers of a human hand that appear and begin to write on the plaster of the wall, causing panic in the king whose "face blanched; his thoughts terrified him, his hip joints shook, and his knees knocked" (the original horror story!)
The handwriting on the wall says, "Mene, Mene, Tekel and Upharsin", which only the wise Daniel interprets. The whole episode is found in Daniel 5.1-31--worth a look.