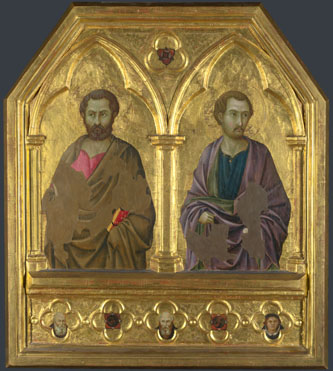 Les Églises d'Occident font mémoire en ce jour de
Simon et Jude, apôtres du Seigneur
.
Simon, surnomme le « Zélote », et Jude, fils de Jacques, qu'on appelle encore Thaddée, figurent en dernières places dans la liste des apôtres. Ils ressemblent aux ouvriers de la dernière heure, qui ont tout de même mené à bien leur mission de témoins de l'Évangile jusqu'au martyre.
Mais, comme cela se produit souvent dans l'histoire du salut dont témoignent les Écritures, c'est justement aux derniers et aux plus marginaux d'entre les hommes que Dieu choisit de se révéler. Ainsi c'est à Jude, d'après l'évangéliste Jean, que Jésus révèle l'inhabitation de Dieu qui peut se réaliser dans le Coeur de ceux qui s'ouvrent à l'amour.
Et c'est à l'amour que sera appelle Simon, lui aussi, qui avant de rencontrer Jésus adhérait à ces groupes de Juifs prêts à manifester leur zèle pour Dieu et pour la Loi en usant de la violence.
Les apocryphes rapportent que Jude aurait été crucifié en Perse, après avoir évangélisé l'Égypte et la Mauritanie. Quant à Simon, il aurait prêché en Samarie, en Syrie, en Mésopotamie, en Inde, et serait mort, lui aussi, en Perse.
Témoins de Dieu : Martyrologe universel
(Paris : Bayard, 2005), p. 614

* * * * * *
O God, who by the blessed Apostles have brought us to acknowledge your Name, grant graciously, through the intercession of Saints Simon and Jude, that the Church may constantly grow by increase of the people who believe in you. Through our Lord.

* * * * * *
Bishop Lionel Gendron, p.s.s. Named Bishop of the Diocese of St. Jean-Longueuil
Today, His Holiness Pope Benedict XVI appointed the Most Reverend Lionel Gendron, p.s.s., currently Auxiliary Bishop of Montreal, as fifth bishop of Saint-Jean-Longueuil.
He succeeds Bishop Jacques Berthelet, c.s.v., who has been the Ordinary of this challenging diocese on Montreal's South Shore since December 27, 1996 (the feast of St. John the Evangelist, the patron of the diocese). Named auxiliary bishop of St. Jean-Longueuil some ten years earlier and, having just turned 76, he had been serving a year beyond the usual retirement age.