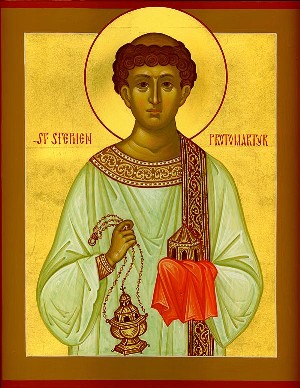 FEAST – ST STEPHEN, THE FIRST MARTYR
Grant, Lord, we pray, that we may imitate what we worship, and so learn to love even our enemies, for we celebrate the heavenly birthday of a man who knew how to pray even for his persecutors. Through our Lord Jesus Christ, your Son, who lives and reigns with you in the unity of the Holy Spirit, one God, for ever and ever.
S. Etienne, le premier martyr
Hier, nous avons célébré la naissance temporelle de notre Roi éternel ; aujourd'hui, nous célébrons la passion triomphante de son soldat.
Hier, en effet, notre Roi, revêtu de notre chair, sortant du palais d'un sein virginal, a daigné visiter notre monde ; aujourd'hui le soldat sortant de la tente de son corps, est parti pour le ciel en triomphateur.
Notre Roi, alors qu'il est le Très-Haut, est venu vers nous dans l'humilité, mais il ne pouvait pas venir les mains vides. Il apportait à ses soldats un don magnifique, non seulement pour leur confier une richesse considérable, mais pour les rendre absolument invincibles dans le combat. Car il leur apportait le don de la charité qui conduirait les hommes à partager la vie divine.
Ce qu'il apportait, il l'a distribué ; mais lui-même n'y a rien perdu car, s'il a transformé en richesse la pauvreté de ses fidèles, lui-même est resté comblé de trésors inépuisables. La charité qui fait descendre le Christ du ciel sur la terre, c'est elle qui a élevé saint Etienne de la terre jusqu'au ciel. La charité qui existait d'abord chez le Roi, c'est elle qui, à sa suite, a resplendi chez le soldat.
Etienne, pour obtenir de recevoir la couronne que signifie son nom, avait pour armes la charité, et grâce à elle il était entièrement vainqueur. Par l'amour de Dieu, il n'a pas reculé devant l'hostilité des Juifs ; par l'amour du prochain, il a intercédé pour ceux qui le lapidaient. Par cette charité, il leur reprochait leur erreur, afin qu'ils se corrigeassent ; par cette charité, il priait pour ceux qui le lapidaient, afin que le châtiment leur fût épargné.
Fortifié par la charité, il a vaincu Saul qui s'opposait cruellement à lui et, après l'avoir eu comme persécuteur sur la terre, il a obtenu de l'avoir pour compagnon dans le ciel. Sa sainte et persévérance charité désirait gagner à lui par la prière ceux qu'il n'avait pu convertir par ses avertissements.
Et voici que maintenant Paul partage la joie d'Etienne, il jouit avec Etienne de la gloire du Christ, il exulte avec Etienne, il règne avec lui. Là où Etienne est allé le premier, mis à mort par la lapidation de Paul, c'est là que Paul l'a suivi, secouru par les prières d'Etienne.
--
Saint Fulgence de Ruspe
When Stephen full of power and grace
Went forth throughout the land,
He bore no shield before his face,
No weapon in his hand;
But only in his heart a flame
And on his lips a sword
Wherewith he smote and overcame
The foemen of the Lord.

When Stephen preached against the laws
And by those laws was tried,
He had no friend to plead his cause,
No spokesman at his side;
But only in his heart a flame
And in his eyes a light
Wherewith God's daybreak to proclaim
And rend the veils of night.

When Stephen, young and doomed to die,
Fell crushed beneath the stones,
He had no curse nor vengeful cry
For those who broke his bones;
But only in his heart a flame
And on his lips a prayer
That God, in sweet forgiveness' name
Should understand and spare.

Let me, O Lord, thy cause defend,
A knight without a sword;
No shield I ask, no faithful friend,
No vengeance, no reward;
But only in my heart a flame
And in my soul a dream,
So that the stones of earthly shame
A jewelled crown may seem.