O God, who gladden us year by year as we wait in hope for our redemption, grant that, just as we joyfully welcome your Only Begotten Son as our Redeemer, we may also merit to look upon him confidently when he comes again as our Judge. Who lives and reigns with you.
* * * * * *
By Saint Robert Southwell
Come to your heaven, you heavenly quires!
Earth hath the heaven of your desires;
Remove your dwelling to your God,
A stall is now His best abode;
Sith men their homage do deny,
Come, angels, all their faults supply.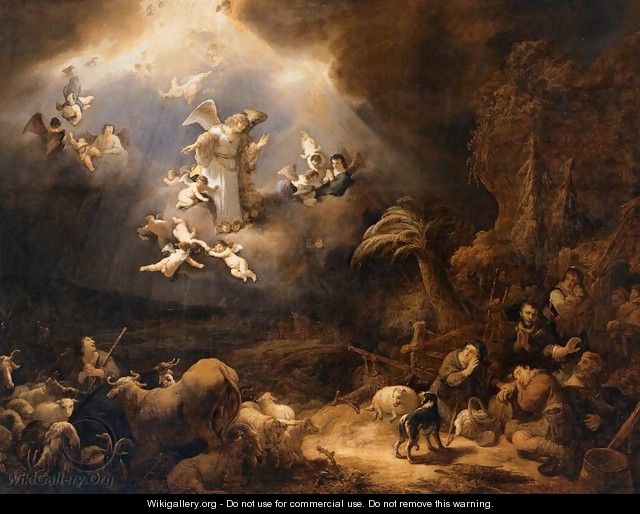 His chilling cold doth heat require,
Come, seraphim, in lieu of fire;
This little ark no cover hath,
Let cherubs' wings his body swathe;
Come, Raphael, this babe must eat,
Provide our little Toby meat.
Let Gabriel be now His groom,
That first took up His earthly room;
Let Michael stand in His defence,
Whom love hath link'd to feeble sense;
Let graces rock when He doth cry,
And angels sing this lullaby.
The same you saw in heavenly seat,
Is He that now sucks Mary's teat;
Agnize your King a mortal wight,
His borrow'd weed lets not your sight;
Come, kiss the manger where He lies;
That is your bliss above the skies.
This little babe so few days old,
Is come to rifle Satan's fold;
All hell doth at His presence quake,
Though He Himself for cold do shake;
For in this weak unarmèd wise
The gates of hell He will surprise.
With tears He fights and wins the field,
His naked breast stands for a shield,
His battering shot are babish cries,
His arrows, looks of weeping eyes,
His martial ensigns, cold and need,
And feeble flesh His warrior's steed.
His camp is pitchèd in a stall,
His bulwark but a broken wall,
The crib His trench, hay-stalks His stakes,
Of shepherds He His muster makes;
And thus, as sure His foe to wound,
The angels' trumps alarum sound.
My soul, with Christ join thou in fight;
Stick to the tents that He hath pight;
Within His crib is surest ward,
This little babe will be thy guard;
If thou wilt foil thy foes with joy,
Then flit not from this heavenly boy.
_______________________________________
Source: The Poetical Works of the Rev. Robert Southwell.
William B. Turnbull, Esq., ed.; London: John Russell Smith, 1856. 100-102.
* * * * * *
Archevêque et Sœurs de la Charité ensemble
Noel 2009 chez les Sœurs de la Charité d'Ottawa
Depuis le temps de
Mgr Bruno Guigues
et
Mère Elisabeth Bruyère
,
l'évêque d'Ottawa célèbre la messe du jour de Noël
avec les religieuses, une coutume qui se poursuit aujourd'hui.
MESSE DU JOUR DE NOËL
Maison-mère des Sœurs de la Charité d'Ottawa, 25 décembre 2010.
[Textes : Isaïe 52, 7-10; Psaume 97(98); Hébreux 1, 1-6; Jean 1, 1-18]
« Le Verbe a habité parmi nous »
En songeant au grand mystère de l'Incarnation, nous sommes émerveillés devant la miséricorde de Dieu. Le Verbe de Dieu « né aujourd'hui… »
Jésus est né du sein de Marie. Et Joseph a accueilli l'Enfant comme son propre fils. Il lui a donné son nom; il a protégé l'Enfant et sa mère à travers de lourdes menaces et jusqu'en exil. Au cours des ans, Joseph enseignera à Jésus son métier. Jésus est né et a grandi – il a appris à être homme – au sein d'une famille.
Le Fils de Dieu s'est fait l'un de nous à ce moment précis de l'histoire humaine parce que les temps étaient accomplis, mais aussi parce que Marie et Joseph lui ont offert leur foi profonde et leur vie concrète. En pensant à ce mystère, un mot a retenu mon attention. Il ne se trouve pas dans l'évangile, mais la réalité qu'il décrit est présente : le mot foyer?
Dans un premier sens, on nomme foyer la partie de l'âtre d'une cheminée où se fait le feu. Mais le foyer est aussi le feu même qui brûle dans une cheminée. On appelle foyer le lieu où l'on vit, le domicile familial. Et la famille elle-même s'appelle foyer. Le foyer est le point central d'où quelque chose provient. Et en sciences physiques, le foyer est le point de convergence des rayons lumineux après réflexion sur un miroir ou après passage à travers une lentille.
Ce qui fait un foyer, c'est l'âme qui y habite, et non pas sa structure. La lumière qui y habite est perçue de l'extérieur. Isaïe dit : « ils voient de leurs yeux le Seigneur ». Or on voit parce qu'il y a de la lumière. « Éclatez en cris de joie… » Chacun, chacune est « porteur de bonnes nouvelles » s'il annonce par sa vie paix et bonheur.
Le monde est le lieu où Dieu parle. Certains n'acceptent pas de se laisser interpeller par la Parole. D'autres l'accueillent et reçoivent grâce à elle une vie nouvelle qui les transforme. Cette Parole nous transforme quand nous communions au Verbe dans l'oraison, et surtout quand nous communions au Pain de vie. Si nous sommes foyer accueillant, nous nous laisserons transformer de l'intérieur.
Il y a quelques semaines, le Saint-Père a mis sur pied le Secrétariat pour la nouvelle évangélisation. Selon lui, l'Église a plus besoin de témoins que de maîtres. C'est là le rôle de chaque personne consacrée qui, par son être même, porte l'enthousiasme de la jeunesse ou le témoignage de qui a vu et expérimenté Dieu pendant de longues années.
Marie et Joseph ont été constitués en couple, en un foyer pour accueillir Emmanuel, Dieu-avec-nous. L'Incarnation a pu se réaliser parce qu'ils étaient prêts à recevoir le Fils de Dieu. « Être foyer », c'est faire place à qui vient – dans ma maison, dans ma vie.
« Tu es mon Fils, aujourd'hui je t'ai engendré… Je serai pour lui un père… » Communiquer est dans la nature même de Dieu. Dieu se révèle désormais pleinement par son Fils. Il s'adresse à nous. Dans le Fils, parole et action sont inséparables.
Selon Hildegarde de Bingen, Dieu s'incarne sans arrêt dans le processus de renouveau présent et agissant au cœur de l'univers. Pour elle, l'incarnation du Verbe n'est pas qu'un point particulier sur le parcours de l'histoire, mais elle se réalise à chaque instant.
Voilà mon vœu de Noël : qu'en nous approchant, l'autre fasse l'expérience d'un foyer. Un être qui accueille le Christ et d'où irradient lumière et chaleur. Un lieu où il fait bon se reposer, reprendre force pour aller à son tour transmettre la joie. Que votre maison, vos lieux communs soient des havres où l'on fait l'expérience de l'amitié. Qu'à force de contempler le Seigneur, vos yeux réfléchissent sa bonté, sa bienveillance, sa tendresse.
Les saints parmi nous – En plus des saintes et saints reconnus officiellement comme tels, nous connaissons des personnes qui accueillent le Christ dans leur vie et qui irradient sa présence et son action. À leur exemple, faisons de même!
Joyeux et Saint Noël!
* * * * * *
Message de Noël de Mgr l'Archevêque
Voici mon message de Noël enregistré par le département de Communications sociales de l'Université St. Paul. Avec mes vives remerciements….