Today and tomorrow, the Holy Father's pastoral journeys take him to
Spain
.
Tomorrow he is to dedicate Antoni Gaudi's marvellous creation, the shrine
La Sagrada Familia
(Holy Family) in Barcelona, the capital of the Catalan autonomous region.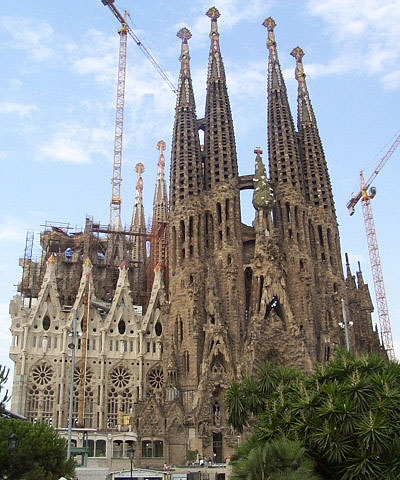 Every nook and cranny of this extraordinary artistic creation lifts one's spirits as it continues to surprise, surpassing all one's expectations, or at least that's how I recall my impressions of the day I spent there many years ago:
* * *
Today, Pope Benedict will celebrate Mass at the famous shrine to
St. James de Compostela
, which this year is celebrating a Jubilee Year (held whenever July 25, the feast of St. James falls on a Sunday).
* * * * * *
Photographic Wrap-up of Annunciation Parish
There were other aspects of the visit to Annunciation Parish besides the dedication of the church. Here are some photographs of the Knights of Columbus breakfast on Saturday morning, a visit to the children taking part in the Catechesis of the Good Shepherd that same morning, the Saturday evening dinner with parish representatives as well as the Sunday morning and evening Masses and, finally, a presentation to youth on St. Brother Andre and St. Marguerite d'Youville: