From last Friday until Friday of this week, Ottawa is observing
Kindness Week
. How did this get started?
Having heard enough bad news,
Rabbi Reuven Bulka
started Kindness Week. Five years later, its mission continues. "To celebrate the kindness that is and to encourage the kindness that can be," says Rabbi Bulka.
This year, the city-wide initiative that encourages people to choose to be kind and recognizes those who engage in every day acts of kindness is focusing on five ways to be kind:
Give, volunteer, say thanks, celebrate kindness and pay if forward
.
This says, Rabbi Bulka, can be achieved from donating your time and money to charitable causes to recognizing acts of kindness around you to encouraging people to make generous efforts in their own lives to better someone else's.
Rabbi Bulka kindly invited me to join him in the launch of Kindness Week last Friday at City Hall but I was out of the country. However, I will join him tomorrow morning for an hour at the
Ottawa International Airport
. Together, we will welcome those coming to Ottawa at the Arrivals Level from 8:15 on for about an hour.
Seeing that Lent gets underway the next day,
Ash Wednesday
, perhaps we Catholics could add some positive kindly act to another as an expression of the renewal of our baptismal commitment, a dimension of our conversion to go along with our acts of prayer, self-denial and almsgiving. Just a thought!
* * * * * *
BISHOP J. FABER MacDONALD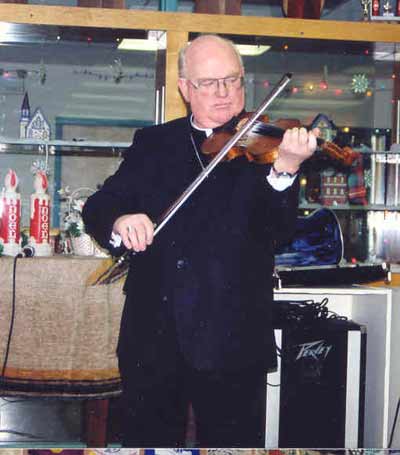 January 20, 1932-February 18, 2012
I was saddened to learn of the death on Saturday in Charlottetown, PEI of Most Reverend J. Faber MacDonald, Bishop of Grand Falls, NL (1980-1998) and emeritus Bishop of Saint John, NB (1998-2006). His first diocese was the home diocese of my dad (born Cupids, Conception Bay) and his appointment to the latter diocese came about just several months after my own transfer to Halifax in June 1998.
So thereafter we often had occasion to meet at the Atlantic Episcopal Assembly and from time to time out of the blue he would call to discuss the challenges we faced or just to let me know what was on his mind and the topic of his next pastoral letter (which tended to be extensive in length).
As Father Faber MacDonald, he was involved very early in the charismatic renewal and also played a role, in the Maritime Region, in the revival of fiddling as a collaborative, rather than a competitive, endeavour.
Following Confirmation services, he endeared himself to the faithful of his dioceses by playing the fiddle after the photos were done, then sitting down and chatting people up while sharing some scoff. He had a most distinctive and unmistakeable laugh, one that could fill a room!
May he be granted a merciful judgment by the Lord he loved to proclaim and serve, and soon may he, freed from the traces of sin, be admitted to the heavenly banquet and there contribute to the merriment of the Kingdom.
R.I.P.